Exhibition Highlights



January - June 2004
Also See Featured Galleries Exibition Archives
---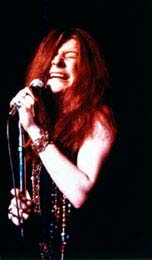 Janis Joplin (1943-1970)
Musician

Linda McCartney (1942-1998)
Chromogenic print, 1967 (printed 1996)

National Portrait Gallery, Smithsonian Institution; gift of the photographer, Linda McCartney © Estate of Linda McCartney
Women of Our Time: Twentieth-Century Photographs
from the National Portrait Gallery
Ackerman Family Gallery

February 6-April 4, 2004
Women of Our Time presents a stunning collection of photographic portraits of women whose brilliance, courage, style and unflagging spirit have helped shape America as we know it. The exhibition includes 75 photographs ofactivists and artists, designers and dancers, politicians and poets, featuring the work of some of the most distinguished photographers of the 20th century. The Long Beach Museum of Art is proud to be the sole Southern California venue for the traveling exhibition.

The exhibition includes portraits of Eleanor Roosevelt, Rosa Parks, Maya Lin, Dorothy Parker, Georgia O'Keefe, Mae West, Jessye Norman, Joan Baez, Janis Joplin, Barbara Jordan and Helen Keller, and many more women whose brilliance, courage, style and unflagging spirit have helped shape America as we know it. Featuring the work of photographers such as Edward Steichen, Lotte Jacobi, Irving Penn, Philippe Halsman, Adolph de Meyer, Lisette Model and Arnold Newman, Women of Our Time is as much about the art of photographic portraiture as it is a celebration of its subjects.

This exhibition has been organized by the National Portrait Gallery, Smithsonian Institution, Washington D.C. The Long Beach Museum of Art's presentation of Women of Our Time is made possible by a grant from The Kenneth T. and Eileen L. Norris Foundation, with additional support from Diane Creel, BP, Frieda's Inc. – The Specialty Produce People, Yellow Book USA and Marsha Naify.

Women of Our Time: Twentieth-Century Photographs
from the National Portrait Gallery - images listed below are part of the exhibition, photographed by women photographers
Janis Joplin by Linda McCartney*
Frances Perkins by Clara E. Sipprell
Eleanor Roosevelt by Clara E. Sipprell
Frances Benjamin Jonhston by Gertrude Kasebier
Aimee Semple McPherson by Gerhard Sisters Studio
Sylvia Beach by Berenice Abbott (there's also a self-portrait by Berenice)*
Malvina Hoffman by Clara E. Sipprell
Martha Graham by Sonya Noskowiak
Pearl Primus by Lisette Model
Ella Fitzgerald by Lisette Model
Althea Gibson by Genevieve Naylor
Rosa Parks by Ida Berman
Dorothy Day by Vivian Cherry
Margaret Mead by Lotte Jacobi
Marianne Moore by Esther Bubley
Ethel Waters, Carson McCullers and Julie Harris by Ruth Orkin*
Fannie Lou Hammer by Charmian Reading
There is also a portrait of photographer Margaret Bourke-White, taken by Philippe Halsman.
*WIPI Women In Photography Distinguished Photographer Awardees
Linda McCartney, 1987 . Ruth Orkin, 1989 . Berenice Abbott, 1991

Long Beach Museum of Art
www.LBMA.org

---

Diane Arbus A young man in curlers at home on West 20th Street, N.Y.C. 1966 © 1971 Estate of Diane Arbus llc Diane Arbus (1923–1971)
DIANE ARBUS REVELATIONS: FIRST MAJOR RETROSPECTIVE OF RENOWNED PHOTOGRAPHER IN DECADES AT THE LOS ANGELES COUNTY MUSEUM OF ART
Noted Photographer's Art and Life Explored in Exhibition at LACMA Diane Arbus Revelations Features More Than 180 Photographic Works, Many Never Before Seen in Los Angeles
Diane Arbus Revelations February 29–May 31, 2004
LOS ANGELES—The Los Angeles County Museum of Art, LACMA, presents the groundbreaking exhibition Diane Arbus Revelations from February 29 through May 31, 2004. The exhibition consists of nearly 200 of the artist's most significant photographs—making it the most complete presentation of her work ever assembled. Prints are drawn from major public and private collections throughout the world and include many images that have never been exhibited publicly. The artist's working method and intellectual influences are revealed through the display of contact sheets, cameras, letters, notebooks, and other writings, as well as through books from Arbus's personal library. Benefiting from new research into her career, Diane Arbus Revelations explores the roots of her prodigious influence on contemporary artistic practice, enriches the understanding of the breadth and consistency of her unique vision, and illuminates its enduring impact on the way we see the world and the people in it. Diane Arbus Revelations was co-organized by Sandra S. Phillips of the San Francisco Museum of Modern Art with guest curator Elisabeth Sussman.
LACMA
---
Getty celebrates the 20th anniversary of the Getty's photographs collection
Special Exhibition Photographers of Genius at the Getty
March 16-July 25, 2004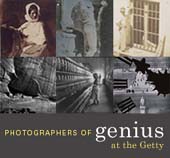 Photographers of Genius at the Getty celebrates the 20th anniversary of the Getty's photographs collection with a showcase of work from groundbreaking visionaries who profoundly influenced their contemporaries and succeeding generations of artists.

The exhibition focuses on 38 major photographers whose work is held in depth by the Getty, among them Julia Margaret Cameron, Carleton Watkins, EugŹne Atget, Alfred Stieglitz, Walker Evans, and Diane Arbus. The photographs date from the earliest years of the new medium in Europe to images of America in the 1960s. Many of the individual photographs are icons, widely reproduced in art and photography, while others have exerted a more subtle influence. The exhibition, drawn entirely from one of the Getty's newest but richest collections, shows how art moves continuously forward as new photographers push pre-existing visual ideas to a new level of expression, thereby revealing the tremendous impact of photography on the evolution of art.

The Getty


---
International Museum Day 2004 - "Museums and Intangible Heritage"

On 18 May 2004, museums all over the world will be celebrating International Museum Day. The theme for 2004 is "Museums and Intangible Heritage".

For the museum profession, the issue of intangible heritage is one of the most important areas to be explored in the years ahead. The museum has traditionally been a space in which material evidence of the past is collected, conserved and displayed. The practices, ideas, knowledge and skills associated with these physical objects have received less attention. Yet intangible representations are undoubtedly an essential part of any civilisation. read more
also see:


France - Council International Des Musees
The International Council of Museums (ICOM) is an international organisation of museums and museum professionals committed to the conservation, continuation and communication to society of the world's natural and cultural heritage, present and future, tangible and intangible.


---
International Center of Photography / New York
"Between Past and Future:  New Photography and Video from China"
June 11 to September 5, 2004.

Between Past and Future:  New Photography and Video from China, the first comprehensive look at the innovative photo and video art produced since the mid-1990s in China, will be presented jointly at the International Center of Photography and the Asia Society and Museum from June 11 to September 5, 2004.

Featuring 130 works by 60 Chinese artists, many of whom will be exhibiting for the first time in the United States, the exhibition reflects the enthusiastic adoption of media-based art by younger Chinese artists. Their works, often ambitious in scale and experimental in nature, reflect a range of highly individual responses to the unprecedented changes now taking place in China's economy, society and culture. In addition to introducing a remarkable body of work to American audiences, the exhibition will also provide insights into the dynamics of Chinese culture at the start of the 21st century.

Organized by ICP and the Smart Museum of Art at the University of Chicago, and presented in association with Asia Society, New York, and the Museum of Contemporary Art, Chicago, Between Past and Future: New Photography and Video from China is curated by Wu Hung, professor of Chinese Art History at the University of Chicago and consulting curator at the Smart Museum, and ICP curator Christopher Phillips

http://www.icp.org/exhibitions/china/index.html
---

Photo l.a. 2004 WIPI Booth, presented artists, Michele Dugan, Jean Ferro, Stephanie Flack, Freyda Miller, Elizabeth Opalenik, Juanita Richeson with pecial presentation of Ruth Bernhard.
See artist porfolios and SEE onsite images of event and ...the final hours..behind the scenes after the event...packing up!
---

*** international photography award ***

Annie Leibovitz, 2003 Women In Photography Distianguished Photographer Award

Gala Awards ceremony at the Beverly Hilton Hotel in Beverly Hills, December 7th
Women In Photography International Member winners:
Christine Burgoyne, Stephanie Flack, C.C. Clarke, Nancy Martin

• international photography awards - Discovering new and emerging talent from all over the globe, conducts two parallel competitions each year - one for professional photographers who earn the majority of their livelihood from their craft and a second for nonprofessional or amateur. Certificates of excellence will be awarded in 54 categories to both groups: The fourteen major prizewinners-seven professionals and seven non-professionals
-will also compete for the coveted title of International Photographer of the Year™ and the $10,000 prize.

---
TOGETHER / Alone
New images / Selected Works
jan. 10th - feb. 22nd

Malibu's Joan Almond explores the world view of threatened cultures and her photographs center around an underlying sense of unity. She prints using the labor-intensive platinum palladium process. Joan has traveled all over the world striving to ingratiate herself to the communities she photographs, from Tijuana to Tunisia, she explores, not exploits. Her style combines her sensitivity for other cultures with her singular ability to recognize unique pattersn of light and architecture. Joan Almond's monograph, entitled The Past in the Present (St. Ann's Press) will be available. Keith Fishman is also on exhibit. To request visuals or interviews with phtographers, please contact Staton-Greenberg Gallery. (see WIPI Almond book archive)
Opening Reception: Saturday Jan. 10, 5-7pm
Staton-Greenberg
15 W. Anapamu Street
Santa Barbara, CA 93101

Contact information:
(805) 962-9878 Fax: (805) 962-9726
Email: staton.greenberg@verizon.net
Website: www.staton-greenberg.com

Magazine feature B & W Magazine, current January - February issue Joan Almond "From the Orient to North America, she has made it her passion to photograph exotic people and the everyday objects that express roots and rituals - emblems of their culture. She does this with an exceptional eye for detail and deep respect for cultures that are different from ours."