JURIED COMPETITION

DEADLINE, September 8th

Notification to Winners Oct. 1st
Exhibition PRESENTATION online Oct. 15th
---
Women In Photography International (WIPI)
1. This competition is open to all International residents aged 18 years or over,
2. All information detailing how to enter this competition forms part of these terms and conditions. It is a condition of entry that all rules are accepted as final and that the competitor agrees to abide by these rules. The decision of the judges is final and no correspondence will be entered into. Submission of an entry will be taken to mean acceptance of these terms and conditions.
3. Entries should be submitted by via online submission form. Entries must be labeled with the entrant's name and image files must be 72 dpi and between 100k and 1MB. . Entrants must use the online submission form and include their own name, address and telephone number, number of images submitted along with note Member or Non-member. We regret that we are unable to accept postal entries.
4. All entries must be received by the advertised closing time and date.
5. All images submitted must be the work of the individual submitting them and must not have won a 1st prize in any other Women In Photography International photographic competition. It is the responsibility of each entrant to ensure that any images they submit have been taken with the permission of the subject and do not infringe the copyright of any third party or any laws. Entrants must warrant that the photograph they are submitting is their own work and that they own the copyright for it. Check box is provided on the entry form.
6. Copyright in all images submitted for this competition remains with the respective entrants. However, in consideration of providing the Competition, each entrant grants a worldwide, irrevocable, perpetual license to Women In Photography International to feature any or all of the submitted images in any of their publications, their websites and/or in any promotional material connected to this competition on social media.. Winning entrants may also identify Women In Photography International in their own promotion as a classified winner and link directly to the gallery presentation.
7. Multiple entries acceptable. Late, illegible, incomplete, defaced or corrupt entries will not be accepted. No responsibility can be accepted for lost entries and proof of transmission will not be accepted as proof of receipt. Entries must not be sent through agencies or third parties. A separate confirmation will be e-mail for each submission within a 24 hour period.
8. The winning entry will be judged to be the most visually appealing, original and self-explanatory according to categories listed . The winner will be notified within 30 days of the closing date of the competition (The closing date is midnight on September 8, 2013).
9. Five 1st place winners will receive a variety of multiple prizes valued from $25 to $70 for each prize awarded, including gift certificates, software and gift items and invaluable gallery presentation of artist work and biography.
10. The winners will be requested to provide a bio/statement and a six image gallery presentation to be published on the WomenInPhotography.org website and maintained in the Women In Photography International archive.
11. The winner's name and county will be displayed in a gallery presentation of both 1st prize winners and juror selection honorable mention gallery.
12. The prizes as described are available within 30 days of date of publication. All prizes are non transferable and there are no cash alternatives, (unless noted in prize section).
13. Events may occur that render the competition itself or the awarding of the prizes impossible due to reasons beyond the control of the WIPI and accordingly WIPI may at its absolute discretion vary or amend the promotion and the entrant agrees that no liability shall attach to the Promoter as a result thereof.
14. Women In Photography International is responsible for all prize distribution either by mail or by e-mail instruction to download software or contact vender for distribution. WIPI will follow up on all prize distribution and confirm receipt.
15. All rights are applied in Good Faith.
Questions, contact Curator@womeninphotography.org or call (323) 462-1444
WIPI is a 501.c.3 California based non-profit organization.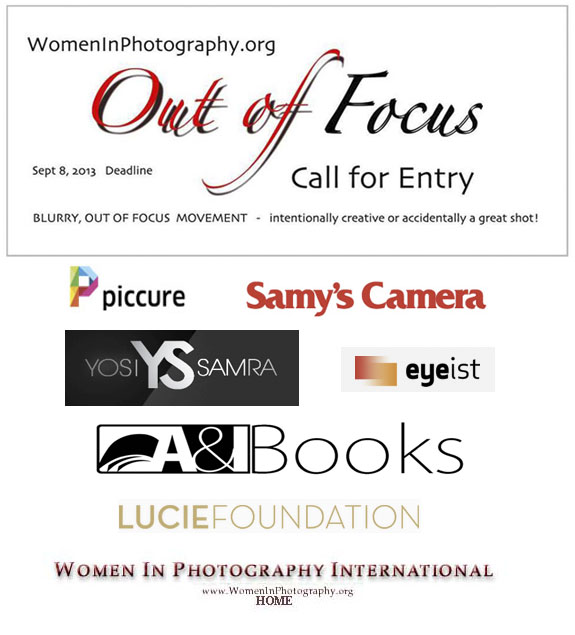 2008-2013 Exhibitions

2013 - May,- Juror Choice Annual
2012 - Oct - It's Magical, images of Sunrise, Sunsets & Rainbows
2012 - May- Annual Juried Exhibition
B/W & Color 2011
Faces 2010
A Decade of Images 2000-2010
Summer 2009 Juried Competition
2009 Juried Competition Family Gatherings - Landscapes-Self-Portraits winners
2008 Juried competition winners

WIPI's early archive 1981 thru 2003 is held at Yale University Beinecke Library, under the Peter Palmquist Women In Photography International Archive.

See FULL LIST OF WIPI EXHIBITIONS starting 1985


Women In Photography International, a 501.c.3 organization founded in 1981, is the #1 resource center for women photographers worldwide. WIPI brings visibility to women working in the photographic arts to curators, educators, researchers, gallery owners and the photographic community.

The WomenInPhotography.org website provides Juried Competitions, Member PhotoProfile's, Feature stories, Hire-a-WIPI-PRO, Spotlight and the Peter E. Palmquist bibliography of over 23,000 women photographers. WIPI HISTORY

Home of the renowned Distinguished Photographer's Award, first presented to Eve Arnold in 1981. The Award has been presented to outstanding photographers including, Ruth Bernhard, 1984, Judy Dater, 1985, Marion Post Wolcott, 1986, Linda McCartney, 1987, Mary Ellen Mark, 1988, Ruth Orkin, 1989, Joyce Tenneson, 1990, Berenice Abbott, 1991, Grace Robertson, 1992, Annie Leibovitz, 2003, Sylvia Plachy, 2004 and Carrie Mae Weems, 2005. The Top 100 female Photographers List was completed August 31, 2008.

JOIN WIPI's SOCIAL MEDIA



Facebook

twitter