Sarah Bones 3rd Place Family Gatherings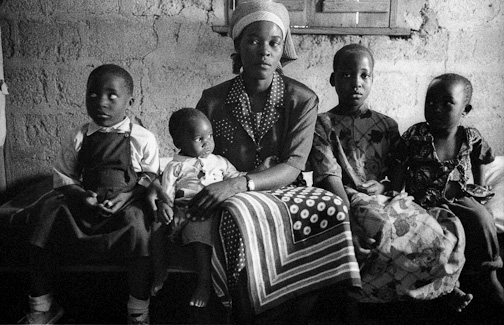 "Family Portrait" Tanzania 2005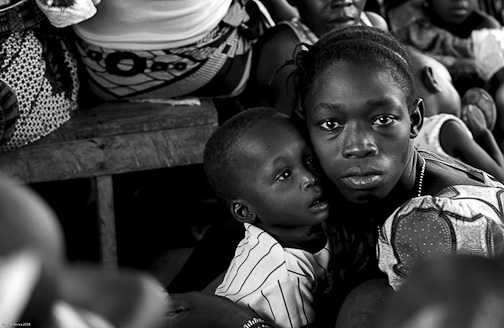 "Mother and Child" Sierra Leone 2007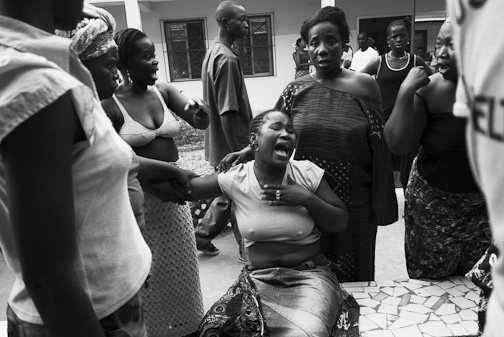 "The Grieving Women" Sierra Leone 2007
Sarah Bones Malvern, Pennsylvania, USA
http://www.sarahbones.com
sbonespa@comcast.net



WIPI PROFESSIONAL MEMBER

Sarah S. Bones was born in Bryn Mawr, Pa in 1956 and has worked as a photojournalist for over 20 years. Bones saved for her first 35mm camera at age 13, in 1969. She was soon hitchhiking into Philadelphia where she would photograph the lives and circumstances of people living on the street. As a professional photographer her early passion for capturing the spirit of the less fortunate and forgotten, has become a life-long journey, taking her from rural villages across the world and to small towns of the United States.

Bones has studied with and is influenced by photojournalists Antonin Kratochvil and Eugene Richards and has chosen to follow in their footsteps as a concerned photographer shooting assignments for CARE, Glaxo Smith Kline Global Community Projects, The Global Action Foundation, The Pennsylvania Prison Society, The Philadelphia Independent Media Center and numerous political campaigns. Bones lives and works outside of Philadelphia where she serves on the ASMP Philadelphia Board, is a member of The NPPA and serves as a guest lecturer at The Art Institute's Photography Program.
ALSO SEE:
1st Place ( Landscapes 12 images)
Sarah Bones, Malvern, Pennsylvania, USA


SEE RESUME




FAMILY GATHERINGS

1st Place (12 images)
Susan Liebold, New York City, New York, USA
2nd Place (6 images)
Judy Cooper, New Orleans, Louisiana, USA
3rd Place (3 images)
Sarah Bones, Malvern, Pennsylvania, USA

FAMILY GATHRINGS < Honorable Mention Juror Choice

Family Gathering Juror: Audrey Jonckheer
Worldwide Pro Photographer Relations
Kodak



LANDSCAPES

1st Place (12 images)
Sarah Bones, Malvern, Pennsylvania, USA
2nd Place (6 images)
Glennis Siverson, Orlando, Florida, USA
3rd Place (3 images)
Cary Loving, Richmond, Virginia, USA

LANDSCAPES < Honorable Mention Juror Choice

Landscape Juror: Sarah Leen
Senior Photo Editor
National Geographic Society



SELF-PORTRAITS

1st Place (12 images)
Laura Bennett, Pearland, Texas, USA
2nd Place (6 images)
Catherine E. Money, South Pasadena, California, USA
3rd Place (3 images)
Diane Silverman, Los Angeles, California, USA
SELF-PORTRAITS < Honorable Mention Juror Choice

Self-Portraits Juror: Jean Ferro
Photo Artist / President
Women In Photography International