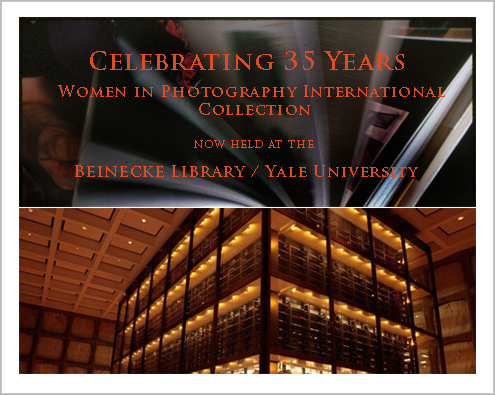 2015-2017 WIPI Organization and Website file transfer
of ALL printed and digital files 1981 - 2016


---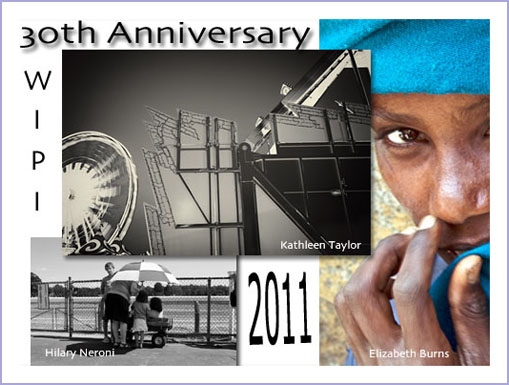 "black & white & color"
30th ANNIVERSARY 2011 Juried Gallery Presentation
WIPI 30th ANNIVERSARY & photo la 20th, In
ternational Photographic Art Exposition
photo la XX + artLA projects - January 13-17, 2011
---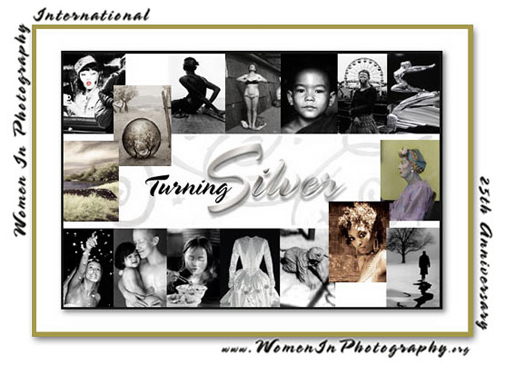 25th Anniversary,
2006

Juror 100 & Honorable Mention
-
Jurors
-
Slide show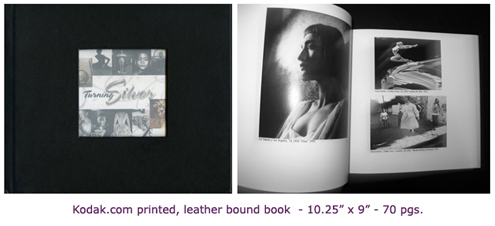 Kodak book shipped to museums, galleries, and university libraries worldwide
---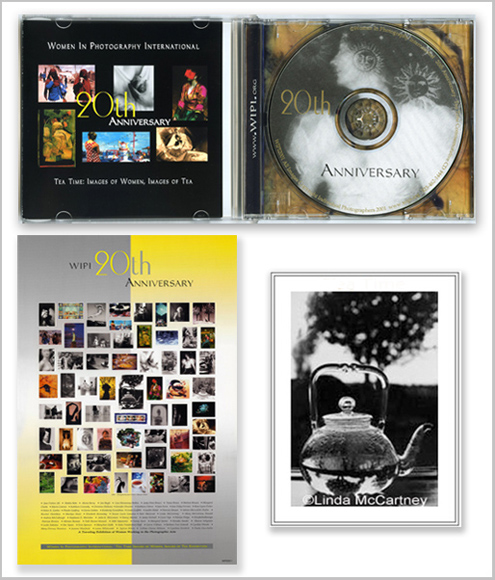 20th Anniversary 2001 Exhibition
large poster
Peter Palmquist CD introduction
Reception
2015 - WIPI /BEINECKE LIBRARY / YALE GALLERY SUBMISSION - CHARTER GALLERY

The WIPI ARCHIVE YALE / BEINECKE CHARTER GALLERY SUBMISSION is a spotlight gallery to introduce CHARTER member artists, educators, professionals and masters of photography to the university. WIPI's in-depth searchable online documentation provides a history of the organization and women's work.

Digital files and print ARCHIVE transition,

completed July 2015.

2015 ... i AM woman ... i AM digital ...

What we see, how we interpret and share our lives, our career with family, friends, the public and the art world using digital SLR, point & shoot cameras, cell phones and tablets

,

in 2015.




Juror

Clive Waring, Editor/Silvershotz International, Jean Ferro. Curator/online gallery.

Eight categories Activities, Animals, Family, Friends and Portraits, Objects, Scenic, Selfies, Structures, Cell/Tablet submissions.

WIPI final exhibition before transition to the Beinecke Library, Yale University, June 2015.
2014 - photo la 23rd - WIPI Presentation Postcards - 2010 FACES Poster Revisited

, January 16-19

Barbara White . Belinda Jentz . Brenda Maltese . Callie Biggerstaff . Candace Biggerstaff . Carol Henry . Carolyn Meltzer . Catherine E. Money Diane Silverman . Gloria Golden . Heather Buckley . Hilary Neroni . Ivy Bigbee . Jane Stevens . Jean Ferro . Kathleen Buckstaff . Kathy Corday . Maria Coletsis . Nancy Clendaniel . Patrizia Pulga . Patsy R. Davis . Wendi Schneider . Wilda Gerideau-Squires . Winifred Meiser

image by Barbara White

2013 - OUT OF FOCUS, Juried Exhibition placement + Honorable Mention Jurors

Claudia James Bartlett Director/Stephen Cohen Gallery /Co-Producer, Director, photo la, Cat Jimenez Co-Founder, Month of Photography LA / Director, Lucie Foundation, Allegra Wilde Founder, Chief Operations Officer/Eyeist, Online Photography Reviews, Jo Garden, Editor/PQ Blackwell LTD, MILKbooks, Susan Spiritus/Susan Spiritus Gallery - Winners: Tasha Barrie, Michele Zousmer, Rhonda Forsberg, Maria Errico, Heather Buckley

image Tasha Barrie

2013 - WIPI ANNUAL


Juror

Daniel Miller/ Duncan Miller Gallery

Laurie Freitag/1st Place, Diane Silverman/Juror Choice + Juror Choice Gallery Presentation, Barbara Pickles, Bev Pettit, Edward L. Rubin, Gloria Golden, Ivy Bigbee, Joan E. Bowers, Kathleen T. Carr, Lee Anne White, Marguerite Garth, Merrie Asimow, Rebecca Joyce, Rosa Isabel Vázquez, Wendi Schneider

2012 - IT'S MAGICAL, Images of Sunrises, Sunsets and Rainbows
Juried Competition - Winners 3 categories + Honorable Mention

Jurors

Jolene Hanson / Director and Curator of The G2 Gallery (Sunrises)

Stephen Perloff / Founder and Editor of The Photo Review (Sunsets)

Chantel Paul / Assistant Curator, Museum of Photographic Art (Rainbows)

Diane Cockerill, (photo left) Barbara White, Nancy Clendaniel


2012 - WIPI - ANNUAL COMPETITION
Juror Susan Spiritus/Susan Spiritus Gallery, Hannah Sloan/ROSE Gallery

Top 10: Patricia D. Richards, Shawna Gibbs, Arkasha Stevenson, Betsy Feick, Bev Pettit, Eleanor Owen Kerr, Ellen Jantzen, Julia Kozerski, Lori Burton, Robin Ward - May 1, 2012

image by Patricia D. Richards



2012 - photo la 21st - WIPI Member Showcase, prints and digital onsite slideshow "Footwear" Jan 12-16 - Angel Burns, Ann Brandeis, Barbara Pickles, Callie Biggerstaff, Candace Biggerstaff, Darcie Goldberg, Diane Silverman, Elizabeth Siegfried, Ellen Freyer, Glennis Siverson, Jamie Johnson, Jean Ferro, Julia McLemore, Kathy Corday, Kay Erickson, Monica Kane Stewart, Monica L. Shulman, Patrizia Pulga, Wendi Schneider footwear image Sharyn Keller
Curated by Candace Biggerstaff (image left)

2011 - "black & white & color"

1st place, Kathleen Taylor, 2nd, Elizabeth Burns, 3rd, Hilary Neroni

Jurors Susan Spiritus, Susan Spiritus Gallery
Stephen Perloff, The Photo Review /The Photograph Collector
Elyse Connolly, Elyse Connolly Photography Representative
2011 - WIPI 30th ANNIVERSARY - photo la 20th, International Photographic Art Exposition photo la XX + artLA projects

- January 13-17, 2011

27 member photographers participated in the 4 day event, sponsored by photo la

committee included Candace Biggerstaff, Callie Biggerstaff and Jean Ferro

The Photograph Collector: photo l.a. XX 2011

RANDOM NOTES 2011, by Jean Ferro, volume XXXII, No. 2, Feb. 16, 2011

WIPI Member showcase, curated by Carol Henry

image by Carol Henry

2010 - FACES Juried Exhibition
1st Place Jaeycyne Howell, (image left) 2nd Place, Betty J. Schluete
Jurors Sarah Hughes, Editorial Photo Agent, Getty Images/ New York
Keith Milton, Owner/Director, Photographers Gallery / Los Angeles, CA
Sophie Mörner, Photographer/Founder / Publisher
Capricious Publishing& Magazine, Brooklyn, New York
See LARGE Scale exhibit poster image 7x13" 150dpi


2010 - A DECADE OF IMAGES 2000-2010 Juried Competition
2 placement winners, Brenda Oelbaum, Cara Barer +100 Honorable Mention
Jurors Elizabeth Houston, Director, Hous Projects / New York City
Pamela Shoenberg, DNJ Gallery / Los Angeles, CA
Laurie Frank, Frank Pictures Gallery / Bergamot Station, Santa Monica, CA
Mary Goodwin, Associate Director at Light Work/ Syracuse, New York
Melanie Light, Executive Director, Fotovision / Berkeley, CA
image by Brenda Oelbaum


2009 - SUMMER WIPI Juried Competition

3 placement winners, Sarah Bones, Heidi Harding, SM Berry,

3 categories, Children, Flowers, Trees - 25 Honorable Mention each category

Jurors

Carol McCusker, PhD - Curator of Photography / (MoPA),

Museum of Photographic Arts San Diego, CA

Margot Shaw, Founder/Editor in Chief, Flower Magazine

Modernbook Gallery, Palo Alto, California, Bryan Yedinak, Co-owner / Publisher / Gallery Director & Niniane Kelley, Associate Gallery Director

image by Sarah Bones

2009 - WIPI Juried Competition

3 placement winners, Susan Liebold, Sarah Bones, Laura Bennett

3 categories, Landscapes, Family Gatherings, Self-Portraits.

10 Honorable Mention each category

Jurors

Audrey Jonckheer / Worldwide Pro Photographer Relations, Kodak

Sarah Leen / Senior Photo Editor, National Geographic Society

Jean Ferro Photo Artist / President, Women In Photography International

image by Susan Liebold

2008 - WIPI Juried Competition

3 placement winners, Daro Sulakuri (image left), Jo Ann Walters, Denise Dee

Top 10 and 40 Honorable Mention, Dec. 8

Jurors

Karen Sinsheimer, Curator of Photography, Santa Barbara Museum of Art

Stephen Perloff, Founder, The Photo Review, Philadelphia, PA

Steve Zeifman, Owner, Rush Creek Editions, Santa Fe. New Mexico

Jessica Johnston, Curatorial Associate, Department of Photographs,

George Eastman House/Int'l Museum of Photography and Film Rochester, NY

2007 - WIPI Juried Exhibition
Top 10 Winning images and 25 Honorable Mention
Jurors Andrea Bakacs, Photographer | Senior Photo Editor, Martha Stewart Living, Everyday Food, Special Issues and Books, NYC • Paul Kopeikin, Owner, Paul Kopeikin Gallery, Los Angeles, CA • Royce Bair, Photographer | President, The Stock Solution, Inc. • Tim Anderson, Photographer | Publisher | Managing Editor, CameraArts Magazine CameraArts, Fine Art Magazine
image by Catherine Hall


2007 - THE PORTRAIT Juried Exhibition


The Top 25 & Honorable Mention Winners - Dec. 2006


Jurors

Susan Spiritus, Gallery Owner / Newport Beach, CA

•

Julian Cox, Curator of Photography / High Museum of Art / Atlanta, GA

•

Sasha Erwitt, Senior Associate Photo Editor, Vanity Fair / Conde Nast Publication / NY

•

Carol McCusker, PhD - Curator of Photography / Museum of Photographic Arts (MoPA), San Diego, CA

•

Jason Murison, Director, P.P.O.W. Gallery / Pilkington, Olsoff Fine Arts, Inc. / New York City

image by Taralea Cutler

2006 - TURNING SILVER - 25th Anniversary Juried Exhibition

100 Juror choice images and 72 Honorable Mention

Jurors

Kim Gougenheim/"O" The Oprah Magazine

•

Catherine Edelman Gallery

•

Joyce Tenneson

•

Jean Ferro /PhotoArtist/WIPIRose

•

Shoshana/Rose Gallery

•

Andrew Smith Gallery

•

Susanne Konig/The powerHouse Gallery

•

Laurie Kratochvil

•

Scott Mc Kiernan /ZUMA Press

•

Stephen Perloff /The Photo Review.worldwide. -

image by Helen Harlan

2005 - DECISIVE MOMENTS Juried Exhibition
A reminiscence by Martine Franck, photographer & wife of Henri Cartier-Bresson: "Henri was always immensely supportive as a photographer. He taught me how to say "No" gracefully and to follow through all projects right to the end." Jurors

Sue Brisk/Magnum Photos,

•

Howard Greenberg Gallery, Lesley Martin/Aperture Foundation,

•

Galerie Esther Woerdehoff / Paris, France

image by Peg Diaz

2004 - virtual * visual Juried Exhibition
Jurors Seventy-four juried images by female photographers, professional and amateur, using any photographic process. The exhibit reflects a variety of work from fine art to photojournalism to commercial photography ..."virtually everything" women photograph.

image by Stephanie Flack

2002 - "kitsch & klick" the art of the toy camera, a Juried Exhibition
Jurors Scott Canty, Curator / Los Angeles Municipal Art Gallery
Jean Ferro. Photo Artist, Mary Oliver, Pierce College / Gallery Director
curated by Joanne Warfield (card image Juanita Richeson)
Los Angeles Pierce College Art Gallery
March 23 - April 25, 2002
Frances Howard Goldwyn Hollywood Library
May 1 - July 30, 2002


2002 - WOMEN IN PHOTOGRAPHY INTL - photo la 11th International Photographic Art Exposition. Tea Time Print exhibition images
photo la presentation of the WIPI's 20th Anniversary Exhibition Tea Time images. Auction photos contributed by Ruth Bernhard, Joyce Tenneson, Tea Time winning photographers, sponsored in part by Stephen Cohen.

curated by Joanne Warfield

2001 - TEA TIME - WIPI's 20th Anniversary
"International Tea Time: Images of Women, Images of Tea"
Juried Exhibition The teapot theme for the juried exhibition was inspired by Linda McCartney and is included with the 75 stunning images from 63 women artists from around the world, representing countries such as Australia, Canada, England, Greece, Italy, Kuwait, Scotland, the USA and others.
large Poster image - large CD insert image

©Linda McCartney "Tea Pot"
1992 - WOMEN CELEBRATE FREEDOM - F2 Special Edition, Winter Issue
Jurors: G. Ray Hawkins, Glenna Avila and Suzy Kerr
Exhibition coordination and production by Alexandra Milovanovich (WIPI President 1992) and Pat Donavan. The final paper edition of F2 marked the closure of the organization until its rebirth online as F2-eZine in November 1999. WOMEN CELEBRATE FREEDOM Exhibition traveled to England w/Director, Nancy Clendaniel

1989-1990 CABLE TV - PHOTOGRAPHY TODAY
Women in Photography International YouTube Channel
https://www.youtube.com/channel/UCmLXWK7mSa_QbNZ5GG-v2CA
Host: Nancy Clendaniel, (WIPI Director 1987-2000)
PROGRAM #1 December 4, 1989 Artists: Jean Ferro PhotoArtist & Steve Wilzbach Fine Art & Documentary Photographer, "Photography in Los Angeles"
PROGRAM #2 segment, January 10, 1990 - Artist: Michael Jacobs, Photojournalist Title: "Photojournalism" Program Michael Jacobs & Maria Piscopo segment filmed, February 14, 1990, Maria Piscopo, Marketing & Promotions Expert "The Business of Photography" All segments were approx 22 minutes long, in color, filmed at Continental Cabelvision studio in Hollywood, CA.


1989 - Women Photographers In America
WIPI International, Juror, Val Williams
Inaugural opening -The Pacific Grove Art Center, Monterey Peninsula
ZOOM MAGAZINE Exhibition Showcase, paperback, 92 pages, 32.5 cm,
Curated by Linda Bellon Fisher and designed by Cloyce Wall


1987 - WOMEN PHOTOGRAPHERS IN AMERICA
28 women photographers
Jurors Judith Keller and Catherine Lord
Presented at the LA Municipal Art Gallery
exhibition catalogue; first edition; paperback, 28 pages, 24 cm.
Organized by, E.K. Waller
assisted by WIP's Director, Nancy Clendaniel

1985 - WOMEN PHOTOGRAPHERS IN AMERICA
85 women photographers
Jurors, Irene Borger and Josine Ianco-Starrels / Director of the Municipal Art Gallery
exhibition catalogue; first edition; paperback, 44 pages, 21 cm., 10/30/85
Organized by E.K. Waller
cover image: Judy Mandolf